Private Boat Tours
Customized for You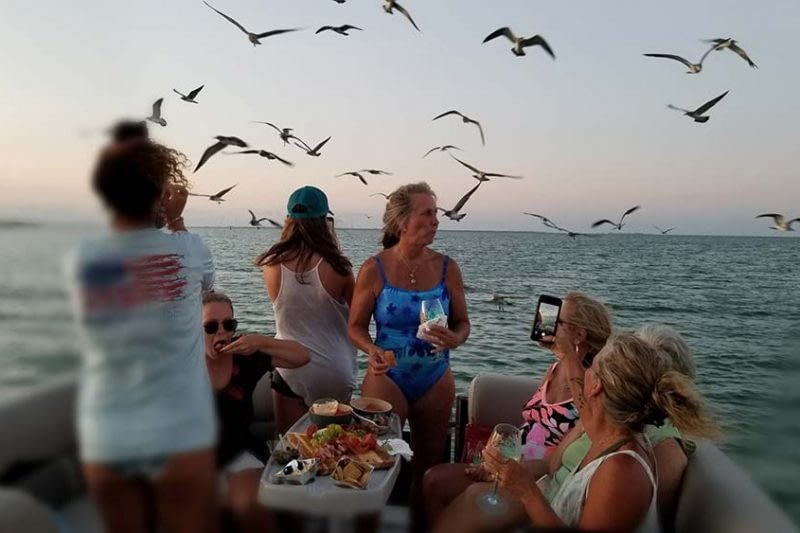 Anna Maria Island's Premiere Boat Tour Experience
Enjoy a fun day at the sandbar, visiting Egmont Key State Park, experiencing a sunset from a boat, admiring the lights of the Sunshine Skyway Bridge at night, or cruising the bay to a local restaurant for the perfect diner experience.
Discover the best AMI has to offer within the privacy and intimacy of your group.
Sunshine Skyway Bridge Night Tour
This 2-hour tour departs 30 minutes before sunset and it cruises right beneath this majestic symbol of Florida's Suncoast from where passengers can appreciate it in all it's splendor as it changes colors right before their eyes.

Egmont Key State Park Excursion
Cruise along 4 miles of beautiful Anna Maria Island coastline to reach this beautiful gem only accessible by boat. Our guided tour will take you right to the heart of this historical and environmental jewel.
Get a front-row seat to the most spectacular sunsets in Florida! On this tour we will cruise along the Ana Maria Island coastline. Combine this tour with the Egmont Key Experience or with a Sandbar Day Trip for an all-encompassing experience!
These are 2 or 4 fun-filled hours at one of the local sandbars where you can wade in pools of crystal clear water, enjoy shelling, snorkeling and many other activities. We will take you where the locals go!
We will pick you up, and drop you off at your resort, home or other convenient location. We leisurely wait on-site until you are ready to head back. This service is perfect for families, groups of friends, or even couples.
The possibilities are endless! From birthdays to anniversaries; from newlyweds to corporate team-building events – we look forward to help you plan the perfect cruise to compliment your special occasion.
We are dedicated to providing a level of customer service and a boating experience like no other in Anna Maria Island. Our goal is to cater to our clients' needs by offering alternatives and flexible packages to accomodate their plans.
Captain Isander
& Ruth Santiago
I've gone out twice with Bay2Bay. Both times were excellent! We saw a beautiful sunset at Passage Island with hundreds of birds adding to the beauty. The second was also seeing a beautiful sunset as we made our way to Skyway Bridge and saw the splendor and enormity as the light changed etc. the Captain and his wife made it special with their knowledge and beautiful charcuterie.

– Diana Novak Khalil (Bradenton, FL)
Exciting. Elegant. Enjoyable
Bay2Bay Boat Tours
Anna Maria Island
Private Boat Tours Customized for You