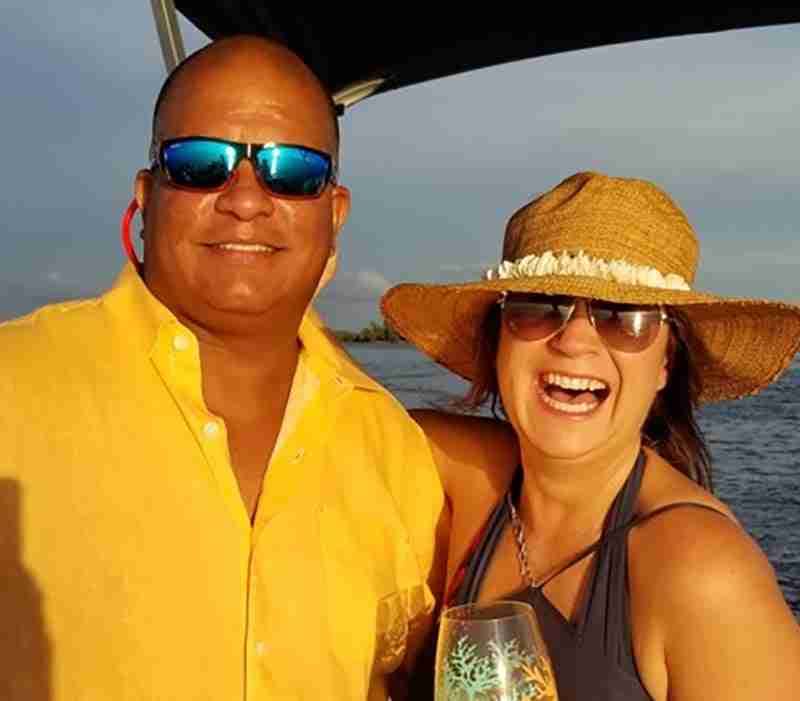 We both live fascinated by the ocean, and we love bringing people together; particularly around a table and to share food, socialize – just enjoy life. Sunsets and dolphins are definitely major bonuses! Bay2Bay Tours is a reflection of our personalities and our passions.
Captain Isander has been an enthusiast of marine life and local history most of his life, and loves sharing knowledge with other people. His first experience in boat charters was almost 30 years ago in the beautiful waters of the Caribbean. Ruth is a multi-talented designer, and an outstanding host. Bay2Bay Tours is the culmination of their personalities and passions. Our desire is to provide indulging boat tour experiences, with a level of attention to personal service like no other in Anna Maria Island.
Bay2Bay Tours offers a variety of options in premier private boat tours.  Our goal is to cater to our clients' needs by offering alternatives and flexible packages to accommodate their plans.
We are pioneers in offering evening boat tours to the Sunshine Skyway Bridge and water-limo service to local restaurants. Other options include sunset cruise experiences, excursions to Egmont Key State Park and day trips to local sandbars. Dolphin sightings are free!
Our boat tours are appropriate for all ages. Water and soft drinks are always complimentary; we also offer options for charcuterie boards, vegan trays and non-alcoholic Piña Coladas, if requested at the time of booking.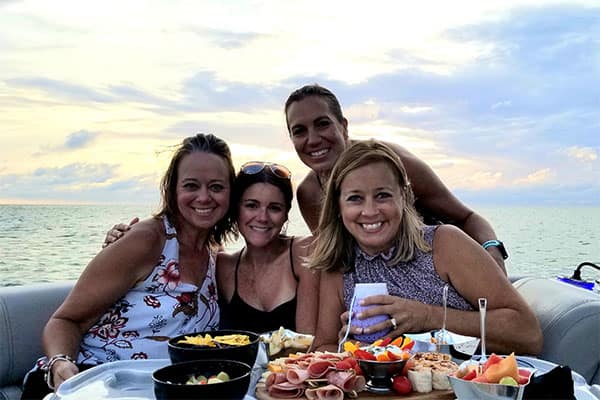 We are dedicated to providing a level of personal care and a boat tour experience like no other in Anna Maria Island.
Why Bay2Bay boat Tours
in Anna Maria Island?
No need to interact or share the experience with strangers. Enjoy boat tours with just your group for a more intimate time. Get the flexibility to customize or even combine tours into one a la carte experience.
Daytime and evening tours are available, seven days a week from early morning to late evening. If you choose, start your day at Egmont Key, enjoy a sunset, then visit the Sunshine Skyway Bridge – all in one day! 
We pick up and drop off by water at one of many convenient locations throughout Anna Maria. Whether at a public or private dock, at a pier, boat ramp, at a residence or resort – we'll meet you there!
Water and Soft Drinks Provided
Bottled water, regular & diet soda and Ginger Ale are always complimentary.  A large cooler with plenty of ice is also provided for any specialty drinks passengers choose to bring aboard. 
Optional Charcuterie and Pi
ñ

a

Coladas
Have more time to relax before and during the trip! Order charcuterie, a vegan tray or non-alcoholic Piña Coladas and our crew will do the rest. No need to prepare, serve or clean up food!
Adult Beverages are Welcome Aboard
Responsible adults are welcome to bring beer, white wine or Champagne to complement their day at the sandbar or evening cruise. Red wine, while delicious, is not allowed onboard. 
Knowledgeable Captain & Crew
Learn interesting and little-known facts of local history, points of interest and wildlife. Walk away with a new appreciation of Anna Maria Island and its surroundings.
Ride in Style and Comfort
Our 2021 Silver Wave tritoon offers lots of interior space and a very smooth trip. Ride in comfort and elegance, seating or lounging, as we leisurely cruise along the Anna Maria coastline. 
Premium Bluetooth Sound System and LED Interior Lights
Play your own playlist and customize light colors, effects and more. Tailor the experience to the taste of your particular group and create unique memories!